Caps for Sale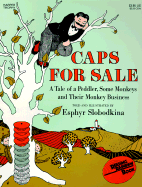 | | | |
| --- | --- | --- |
| | Sensitivity | |
| | Judgment | |
| | Focus | |
| | Action | |
by Esphyr Slobodkina
Caps for Sale is about self-enhancement |. The genre of the story is Comedy and Mythology/folktale, the setting is Historical.
A hat peddler attempts to retrieve his stack of hats from a group of monkeys.
Moral reasoning in the story focuses on self concern.
The theme of the story is Showing, rather than telling, will often get desired results.
Violence
Cruelty
Rudeness
The story is sometimes rude.
Religion/Spirituality
Stereotypes
Key Virtues
Resourceful
Cooperation
Creativity
Duty
Hard work
Patience
Persistence
Self control
Compassion
Forgiveness
Key Vices
Anger
Obstinate/Uncooperative
Foolishness
Impatience
Unkind