The Doorbell Rang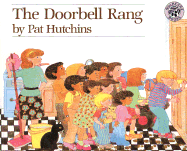 | | | |
| --- | --- | --- |
| | Sensitivity | |
| | Judgment | |
| | Focus | |
| | Action | |
by Pat Hutchins
The Doorbell Rang is about morality |. The genre of the story is Drama, the setting is Contemporary.
Victoria and Sam were excited to eat the cookies that their mother made for them. The doorbell kept ringing and more and more friends kept coming over to share the cookies until there was barely enough for everyone. Just then, Grandma rang the doorbell with a big batch of cookies to share
Moral reasoning in the story focuses on concern for relationships.
The theme of the story is When you share, there is always enough.
Violence
Cruelty
Rudeness
Religion/Spirituality
Stereotypes
There is stereotyped female sex role in the story.
Key Virtues
Generosity
Cooperation
Thoughtfulness
Fairness/Justice
Friendship
Includes others
Kindness
Altruism/Unselfish care for others
Courtesy
Respect