Lilly's Purple Plastic Purse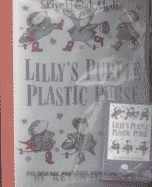 | | | |
| --- | --- | --- |
| | Sensitivity | |
| | Judgment | |
| | Focus | |
| | Action | |
by Kevin Henkes
Lilly's Purple Plastic Purse is about morality . The genre of the story is Comedy and Cartoon/comic, the setting is Contemporary.
Lilly loves her new purple plastic purse, but when she tries to share it out of turn, her beloved teacher is forced to confiscate it for the rest of the day. Furious, Lilly submits an angry description of her teacher, which she later regrets. At the end, she apologizes, and learns to control similar outbursts
Moral reasoning in the story focuses on concern for relationships.
The theme of the story is When you've done something wrong, be sure to apologize.
Violence
Cruelty
Rudeness
The story is sometimes rude.
Religion/Spirituality
Stereotypes
There is stereotyped age differences in the story.
Key Virtues
Forgiveness
Obedience
Cooperation
Respect
Courtesy
Fairness/Justice
Patience
Social Responsibility
Citizenship
Friendship
Key Vices
Impulsiveness
Thoughtless
Bragging
Disobedience
Unreflective/Don't think of consequences of actions
Anger
Foolishness
Impatience
Selfish
Slander