Sylvester and the Magic Pebble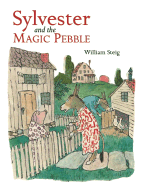 | | | |
| --- | --- | --- |
| | Sensitivity | |
| | Judgment | |
| | Focus | |
| | Action | |
by William Steig
Sylvester and the Magic Pebble is about self-enhancement, a series of events, and imagination. The genre of the story is Drama, Cartoon/comic, and Mythology/folktale, the setting is Realistic.
Sylvester finds a magic pebble and accidentally wishes himself into a rock. After a fortunate series of events, Sylvester is transformed back into a donkey and is reunited with his family.
Moral reasoning in the story focuses on concern for relationships.
The theme of the story is Your family is more important than any material possessions.
Violence
Cruelty
Rudeness
Religion/Spirituality
Stereotypes
There is stereotyped male sex role and stereotyped female sex role in the story.
Key Virtues
Love
Hope
Altruism/Unselfish care for others
Gratitude
Loyalty
Patience
Citizenship
Courage
Faith
Includes others
Key Vices
Unreflective/Don't think of consequences of actions
Greed
Impulsiveness
Thoughtless