Little Red Riding Hood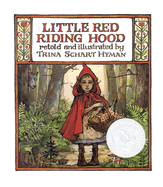 | | | |
| --- | --- | --- |
| | Sensitivity | |
| | Judgment | |
| | Focus | |
| | Action | |
by Jacob and Wilhelm Grimm
Little Red Riding Hood is about morality |. The genre of the story is Mythology/folktale, the setting is Historical, and the heritage is European.
Little Red Riding Hood meets a wolf on her way to her grandmother?s house. After finding out where she is going, the wolf runs ahead to eat grandmother and await the girl. When she arrives, the wolf eats her too, but luckily a hunter comes and kills the wolf to free Little Red and her grandmother
Moral reasoning in the story focuses on self concern, concern for relationships, and concern for law and order.
The theme of the story is Obey your parents.
Violence
Cruelty
Rudeness
Religion/Spirituality
Stereotypes
There is stereotyped age differences in the story.
Key Virtues
Obedience
Love
Thoughtfulness
Altruism/Unselfish care for others
Helpfulness
Kindness
Citizenship
Compassion
Duty
Loyalty
Key Vices
Cruelty
Disobedience
Ruthless/Do anything to get your way
Dishonesty
Foolishness
Untrustworthy
Greed
Impulsiveness
Undisciplined
Unreflective/Don't think of consequences of actions