Lon Po Po: A Red Riding Hood Story from China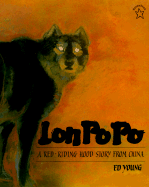 | | | |
| --- | --- | --- |
| | Sensitivity | |
| | Judgment | |
| | Focus | |
| | Action | |
by Ed Young
Lon Po Po: A Red Riding Hood Story from China is about prudence, a series of events, and imagination. The genre of the story is Mythology/folktale, the setting is Realistic, and the heritage is Asian.
Three girls are left alone when the mother leaves to visit their Po Po. A wolf tricks the girls into letting him in by pretending to be their Po Po. The girls figure this out and end up killing the wolf.
Moral reasoning in the story focuses on self concern and self concern.
The theme of the story is If you keep your wits when in danger, you can survive and triumph.
Violence
Violence in the story is presented as positive and negative, it is not graphic, and rewarded always. Harm to other living things is acceptable with justification and focuses on outside family or group.
Cruelty
Rudeness
Religion/Spirituality
Stereotypes
There is stereotyped age differences and stereotyped levels of intelligence in the story.
Key Virtues
Resourceful
Cooperation
Courage
Creativity
Planfulness
Wisdom
Honesty
Includes others
Persistence
Prudence
Key Vices
Dishonesty
Unreflective/Don't think of consequences of actions
Disobedience
Ruthless/Do anything to get your way
Untrustworthy
Anger
Cruelty
Foolishness
Greed
Impatience