Pecos Bill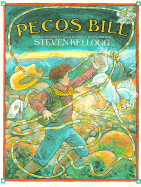 | | | |
| --- | --- | --- |
| | Sensitivity | |
| | Judgment | |
| | Focus | |
| | Action | |
by Steven Kellogg
Pecos Bill is about self-enhancement and descriptive of causes . The genre of the story is Mythology/folktale and Action/Adventure, the setting is Historical, and the heritage is North American.
Pecos Bill was raised by a pack of coyotes until a Texan takes Bill under his wing. Bill invents lassos and rodeos, tames the wildest horse, and is eventually reunited with his family.
Moral reasoning in the story focuses on self concern, concern for relationships, and concern for law and order.
The theme of the story is Be ready for whatever life brings your way.
Violence
Cruelty
Rudeness
Religion/Spirituality
Stereotypes
There is stereotyped male sex role, stereotyped female sex role, stereotyped social class, and stereotyped culture/race/ethnicity/nationality in the story.
Key Virtues
Creativity
Resourceful
Hard work
Love
Strength
Cooperation
Courage
Optimism
Self confidence
Altruism/Unselfish care for others
Key Vices
Impulsiveness
Destructive to environment/Ecocidal
Unreflective/Don't think of consequences of actions