The Story of Johnny Appleseed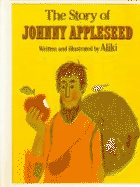 | | | |
| --- | --- | --- |
| | Sensitivity | |
| | Judgment | |
| | Focus | |
| | Action | |
by Aliki
The Story of Johnny Appleseed is about self-enhancement, prudence, a series of events, and descriptive of causes. The genre of the story is Mythology/folktale, the setting is Historical, and the heritage is North American.
John Chapman followed the word of God and served his country by planting apple seeds all over the country.
Moral reasoning in the story focuses on concern for relationships and concern for law and order.
The theme of the story is Give generously and without discriminating, even if the gift is simple.
Violence
Cruelty
Rudeness
Religion/Spirituality
There is religion/spirituality in the story and respect for the religion is shown .
Stereotypes
Key Virtues
Hard work
Altruism/Unselfish care for others
Citizenship
Ecological Citizenship/Preserving nature
Friendship
Kindness
Resourceful
Cooperation
Helpfulness
Compassion