Three Billy Goats Gruff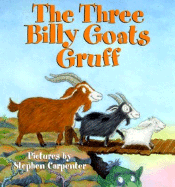 | | | |
| --- | --- | --- |
| | Sensitivity | |
| | Judgment | |
| | Focus | |
| | Action | |
by Peter Christen Asbjrnsen
Three Billy Goats Gruff is about prudence |. The genre of the story is Mythology/folktale, the setting is Realistic, and the heritage is European.
Three BillyGoat brothers try to cross a bridge to get to the meadow on the other side. A mean, ugly troll below the bridge tries to stop them.
Moral reasoning in the story focuses on self concern.
The theme of the story is Do what it takes to overcome obstacles in your path.
Violence
Cruelty
Rudeness
The story is sometimes rude.
Religion/Spirituality
Stereotypes
There is stereotyped age differences in the story.
Key Virtues
Resourceful
Cooperation
Wisdom
Courage
Creativity
Faith
Frugality/Thriftiness
Optimism
Patience
Planfulness
Key Vices
Greed
Ruthless/Do anything to get your way
Cruelty
Wrath/Vicious Anger
Anger
Cowardice
Intemperance
Selfish
Thoughtless
Unkind