Good Queen Bess: The Story of Elizabeth I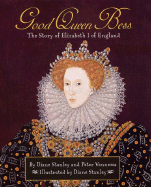 | | | |
| --- | --- | --- |
| | Sensitivity | |
| | Judgment | |
| | Focus | |
| | Action | |
by Peter Vennema
Good Queen Bess: The Story of Elizabeth I is about self-enhancement and morality . The genre of the story is Drama, the setting is Historical, and the heritage is European.
A biography of Queen Elizabeth I succeeding against expectations
The theme of the story is Stand up for what you believe in.
Violence
Cruelty
Rudeness
The story is sometimes rude.
Religion/Spirituality
The religion/spirituality in the story is judeo-christian and respect for the religion is shown .
Stereotypes
There is stereotyped male sex role in the story.
Key Virtues
Citizenship
Loyalty
Courage
Compassion
Duty
Fairness/Justice
Resourceful
Strength
Hard work
Planfulness
Key Vices
Disloyalty
Untrustworthy
Cruelty
Intolerance
Ruthless/Do anything to get your way
Arrogance
Contempt
Dishonesty
Envy
Greed