Flossie and the Fox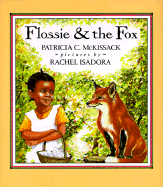 | | | |
| --- | --- | --- |
| | Sensitivity | |
| | Judgment | |
| | Focus | |
| | Action | |
by Patricia McKissack
Flossie and the Fox is about prudence, a series of events, and imagination. The genre of the story is Mythology/folktale, the setting is Historical and Fantasy.
Flossie, a young girl, doesn't show fear of a fox when she meets one for the first time. She says she doesn't believe he is a fox so the fox keeps trying to convince her until she finally reaches home, safely.
The theme of the story is Even the slyest of creatures can be outsmarted.
Violence
Cruelty
Rudeness
Religion/Spirituality
Stereotypes
There is stereotyped levels of intelligence, stereotyped social class, and stereotyped culture/race/ethnicity/nationality in the story.
Key Virtues
Resourceful
Creativity
Wisdom
Courage
Self confidence
Persistence
Duty
Hard work
Helpfulness
Moderation/Temperance
Key Vices
Arrogance
Anger
Bragging
Foolishness
Untrustworthy
Contempt
Greed
Vanity