Amelia Bedelia (series)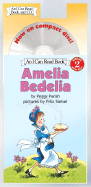 | | | |
| --- | --- | --- |
| | Sensitivity | |
| | Judgment | |
| | Focus | |
| | Action | |
by Peggy Parish
Amelia Bedelia (series) is about morality |. The genre of the story is Comedy, the setting is Contemporary.
Amelia Bedelia talks with the orchestra conductor and distracts the orchestra. She is taking his words too literally, and making the children laugh. In the end, Amelia knocks down the conductor with a drum. He is angry with her, but cheers up because the audience seems to love the performance
The theme of the story is We must have patience with those who are different from us.
Violence
Cruelty
Rudeness
The story is sometimes rude.
Religion/Spirituality
Stereotypes
Key Virtues
Hard work
Helpfulness
Forgiveness
Thoughtfulness
Creativity
Generosity
Gratitude
Obedience
Optimism
Persistence
Key Vices
Anger
Foolishness
Impulsiveness
Intolerance
Reckless
Thoughtless
Unreflective/Don't think of consequences of actions
Untrustworthy