Mirette on the High Wire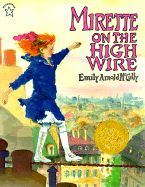 | | | |
| --- | --- | --- |
| | Sensitivity | |
| | Judgment | |
| | Focus | |
| | Action | |
by Emily Arnold McCully
Mirette on the High Wire is about self-enhancement |. The genre of the story is Drama, the setting is Historical, and the heritage is European.
A young girl both inspires and learns from a man skilled at walking on wire. Conquering fear, together they perform above the Paris rooftops.
Moral reasoning in the story focuses on concern for relationships.
The theme of the story is Focus and discipline can lead to success.
| | |
| --- | --- |
| | Violence |
| | Cruelty |
| | Rudeness |
| | Religion/Spirituality |
| | Stereotypes |
Key Virtues
Courage
Hard work
Persistence
Self confidence
Self discipline
Faith
Altruism/Unselfish care for others
Cooperation
Friendship
Hope
Key Vices
Cowardice
Bragging
Greed
Impatience
Impulsiveness
Unreflective/Don't think of consequences of actions