Tuesday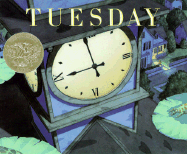 This story is not particularly ethical or unethical, but may offer other benefits. Read the full review to find out more.
by David Wiesner
Tuesday is about morality |. The genre of the story is Comedy and Action/Adventure, the setting is Contemporary, and the heritage is European.
A wordless story about a boy who goes to the beach and finds a camera whose film he develops only to find rich photos of ocean creatures and children from the past.
Moral reasoning in the story focuses on concern for relationships and concern for law and order.
The theme of the story is Time is the constant in the life of nature and people.
Violence
Cruelty
Rudeness
The story is sometimes rude.
Religion/Spirituality
Stereotypes
There is stereotyped age differences in the story.
Key Virtues
Creativity
Ecological Citizenship/Preserving nature
Hope