Hey, Al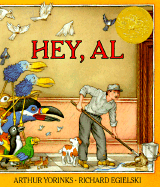 | | | |
| --- | --- | --- |
| | Sensitivity | |
| | Judgment | |
| | Focus | |
| | Action | |
by Arthur Yorinks
Hey, Al is about self-enhancement, morality, and imagination. The genre of the story is Comedy, Action/Adventure, and Cartoon/comic, the setting is Contemporary and Fantasy, and the heritage is North American.
When Al and Eddie tire of their relentless struggle to survive on the West Side, they are carted away by a magical bird to a paradise. They change their minds when they turn into birds themselves, and race home to learn that "paradise lost is sometimes heaven found."
Moral reasoning in the story focuses on concern for relationships and concern for law and order.
The theme of the story is Be thankful for what you have in life.
Violence
Cruelty
Rudeness
Religion/Spirituality
Stereotypes
There is stereotyped social class in the story.
Key Virtues
Friendship
Hard work
Compassion
Gratitude
Moderation/Temperance
Prudence
Altruism/Unselfish care for others
Duty
Frugality/Thriftiness
Humility
Key Vices
Envy
Impulsiveness
Greed
Unreflective/Don't think of consequences of actions
Cynicism
Foolishness
Thoughtless