My Friend Rabbit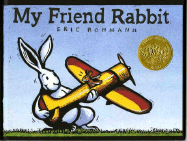 | | | |
| --- | --- | --- |
| | Sensitivity | |
| | Judgment | |
| | Focus | |
| | Action | |
by Eric Rohmann
My Friend Rabbit is about self-enhancement, morality, and imagination. The genre of the story is Comedy, Action/Adventure, and Cartoon/comic, the setting is Fantasy, and the heritage is North American.
When Rabbit gets Mouse's plane stuck in a tree, he innovatively makes up for his best intentions gone awry by stacking their friends to save the plane.
Moral reasoning in the story focuses on concern for relationships.
The theme of the story is Working together can solve problems
Violence
Cruelty
Rudeness
Religion/Spirituality
Stereotypes
There is stereotyped levels of intelligence and stereotyped ability differences in the story.
Key Virtues
Friendship
Cooperation
Loyalty
Creativity
Persistence
Planfulness
Altruism/Unselfish care for others
Helpfulness
Love
Resourceful
Key Vices
Unreflective/Don't think of consequences of actions
Anger
Thoughtless
Reckless
Foolishness
Impulsiveness