Jumanji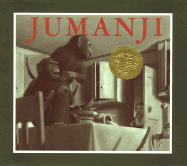 | | | |
| --- | --- | --- |
| | Sensitivity | |
| | Judgment | |
| | Focus | |
| | Action | |
by Chris Van Allsburg
Jumanji is about prudence, a series of events, and imagination. The genre of the story is Comedy and Action/Adventure, the setting is Contemporary and Fantasy, and the heritage is North American.
When two young children begin a game of Jumanji, they know that they'll have to finish, but they don't expect the arrival of real-life jungle animals in their house. They rush through a flood, a volcanic eruption, stampedes, and attacking lions to the end of the game, and their parents' arrival home.
Moral reasoning in the story focuses on self concern and concern for law and order.
The theme of the story is Always read the instructions and listen to directions.
Violence
Violence in the story is not graphic, and rewarded never. Harm to other living things is unacceptable and focuses on .
Cruelty
Rudeness
Religion/Spirituality
Stereotypes
Key Virtues
Cooperation
Courage
Obedience
Self discipline
Trustworthiness
Duty
Hard work
Moderation/Temperance
Planfulness
Prudence
Key Vices
Disobedience
Impulsiveness
Intemperance
Untrustworthy
Foolishness
Laziness/Sloth
Reckless
Thoughtless
Undisciplined
Unreflective/Don't think of consequences of actions