Ox-Cart Man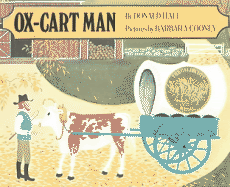 | | | |
| --- | --- | --- |
| | Sensitivity | |
| | Judgment | |
| | Focus | |
| | Action | |
by Donald Hall
Ox-Cart Man is about self-enhancement, morality, and a series of events. The genre of the story is Action/Adventure and Drama, the setting is Historical and Realistic, and the heritage is European.
The Ox-Cart man walks to town to sell the wares that his family produced over the last year. His success begins the process of production again, as the family prepares for next year's "loading of the ox cart."
Moral reasoning in the story focuses on self concern and concern for law and order.
The theme of the story is The circle of life continues every year.
Violence
Cruelty
Rudeness
Religion/Spirituality
Stereotypes
There is stereotyped male sex role and stereotyped social class in the story.
Key Virtues
Hard work
Cooperation
Frugality/Thriftiness
Resourceful
Altruism/Unselfish care for others
Citizenship
Helpfulness
Loyalty
Planfulness
Prudence