The Three Pigs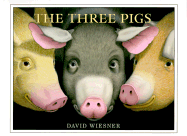 | | | |
| --- | --- | --- |
| | Sensitivity | |
| | Judgment | |
| | Focus | |
| | Action | |
by David Wiesner
The Three Pigs is about morality and imagination . The genre of the story is Comedy, Action/Adventure, Cartoon/comic, and Mythology/folktale, the setting is Fantasy, and the heritage is North American.
In this revisitation of the Three Little Pigs, the pigs escape the storyline when the wolf blows down their houses. They visit other fairytale stories and eventually bring their friends home to live in their still-standing brick house.
Moral reasoning in the story focuses on concern for relationships.
The theme of the story is If you look hard enough, there is always a solution to every difficult problem
Violence
Violence in the story is presented as humorous, it is not graphic, and rewarded never. Harm to other living things is unacceptable and focuses on outside family or group.
Cruelty
Rudeness
Religion/Spirituality
Stereotypes
There is stereotyped ability differences in the story.
Key Virtues
Creativity
Cooperation
Kindness
Friendship
Altruism/Unselfish care for others
Hard work
Helpfulness
Includes others
Optimism
Thoughtfulness
Key Vices
Cruelty
Ruthless/Do anything to get your way
Foolishness
Thoughtless
Undisciplined
Unreflective/Don't think of consequences of actions
Untrustworthy