Sam, Bangs & Moonshine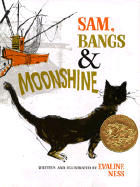 | | | |
| --- | --- | --- |
| | Sensitivity | |
| | Judgment | |
| | Focus | |
| | Action | |
by Evaline Ness
Sam, Bangs & Moonshine is about morality |. The genre of the story is Fantasy and Drama, the setting is Realistic.
Sam, a fisherman's daughter, likes to tell others fantasy stores. One day, one of her tall-tales puts her friend and her pet cat in danger, and she finally learns the difference between her imagination and reality.
Moral reasoning in the story focuses on concern for relationships.
The theme of the story is Never let your imagination get in the way of truth or reality.
| | |
| --- | --- |
| | Violence |
| | Cruelty |
| | Rudeness |
| | Religion/Spirituality |
| | Stereotypes |
Key Virtues
Honesty
Friendship
Creativity
Generosity
Self control
Self discipline
Thoughtfulness
Wisdom
Cooperation
Forgiveness
Key Vices
Unreflective/Don't think of consequences of actions
Dishonesty
Disobedience
Thoughtless
Untrustworthy
Impulsiveness