Always Room for One More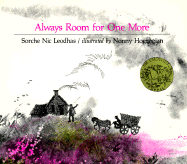 | | | |
| --- | --- | --- |
| | Sensitivity | |
| | Judgment | |
| | Focus | |
| | Action | |
by Sorche Nic Leodhas
Always Room for One More is about morality |. The genre of the story is Mythology/folktale, the setting is Historical, and the heritage is European.
A man with a wife and ten children welcomes every traveler until his home literally splits at the seams. To thank him for his hospitality, his guests build him a bigger home that will always have room for one more.
Moral reasoning in the story focuses on self concern, concern for relationships, and concern for fair process.
The theme of the story is Treat others how you would like to be treated.
| | |
| --- | --- |
| | Violence |
| | Cruelty |
| | Rudeness |
| | Religion/Spirituality |
| | Stereotypes |
Key Virtues
Generosity
Kindness
Altruism/Unselfish care for others
Compassion
Courtesy
Graciousness
Helpfulness
Includes others
Social Responsibility
Citizenship