Once a Mouse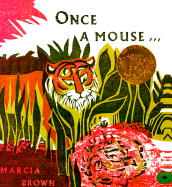 | | | |
| --- | --- | --- |
| | Sensitivity | |
| | Judgment | |
| | Focus | |
| | Action | |
by Marcia Brown
Once a Mouse is about self-enhancement and prudence . The genre of the story is Mythology/folktale, the setting is Historical, and the heritage is Asian.
Moral reasoning in the story focuses on self concern, self concern, and concern for fair process.
The theme of the story is Be grateful for what others have given to you.
Violence
Cruelty
Rudeness
Religion/Spirituality
The religion/spirituality in the story is magical thinking and eastern religion and respect for the religion is shown .
Stereotypes
Key Virtues
Compassion
Gratitude
Humility
Kindness
Tolerance
Altruism/Unselfish care for others
Generosity
Respect
Wisdom
Cooperation
Key Vices
Arrogance
Thoughtless
Vanity
Intolerance
Greed
Anger
Bragging
Disloyalty
Foolishness
Intemperance