Baboushka and the Three Kings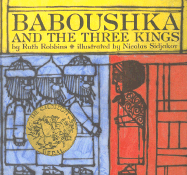 | | | |
| --- | --- | --- |
| | Sensitivity | |
| | Judgment | |
| | Focus | |
| | Action | |
by Ruth Robbins
Baboushka and the Three Kings is about morality |. The genre of the story is Mythology/folktale, the setting is Historical, and the heritage is European.
One winter's night, Baboushka receives a visit from three kings who are looking for a new born child. She declines the chance to travel with them, then changes her mind and each year renews her search to find the kings and the baby.
Moral reasoning in the story focuses on self concern and concern for relationships.
The theme of the story is It is good to keep our eyes and ears open, so that we don't miss opportunities.
Violence
Cruelty
Rudeness
Religion/Spirituality
The religion/spirituality in the story is judeo-christian and respect for the religion is shown .
Stereotypes
Key Virtues
Persistence
Generosity
Kindness
Faith
Hard work
Compassion
Duty
Patience
Respect
Social Responsibility
Key Vices
Unreflective/Don't think of consequences of actions