Nine Days to Christmas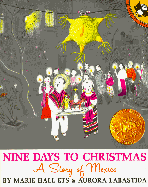 | | | |
| --- | --- | --- |
| | Sensitivity | |
| | Judgment | |
| | Focus | |
| | Action | |
by Marie Hall Ets & Aurora Labastida
Nine Days to Christmas is about a series of events |. The genre of the story is Drama, the setting is Historical, and the heritage is Hispanic/Latino.
Five year old Ceci is told that she will be able to take part in her first ever posada (a party that is part of a Mexican Christmas celebration). In the days leading up to the festival, she gets to participate in many traditions.
Moral reasoning in the story focuses on self concern and concern for relationships.
The theme of the story is Good things are worth waiting for.
Violence
Cruelty
Rudeness
Religion/Spirituality
The religion/spirituality in the story is judeo-christian and respect for the religion is shown .
Stereotypes
There is stereotyped culture/race/ethnicity/nationality in the story.
Key Virtues
Compassion
Kindness
Love
Patience
Faith
Includes others
Respect
Cooperation
Friendship
Generosity
Key Vices
Impatience
Obstinate/Uncooperative
Thoughtless
Unkind
Unreflective/Don't think of consequences of actions