A Tree is Nice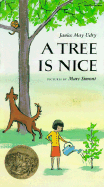 This story is not particularly ethical or unethical, but may offer other benefits. Read the full review to find out more.
by Janice Udry
A Tree is Nice is about a series of events |. The genre of the story is Drama, the setting is Realistic.
This story desccribes many reasons why trees are nice (they give us shade, they make everything beautiful, we can play in their leaves).
The theme of the story is Respect and protect nature
| | |
| --- | --- |
| | Violence |
| | Cruelty |
| | Rudeness |
| | Religion/Spirituality |
| | Stereotypes |
Key Virtues
Ecological Citizenship/Preserving nature
Altruism/Unselfish care for others
Citizenship
Gratitude
Kindness
Resourceful
Social Responsibility
Wisdom