Frog Went A-Courtin'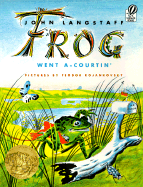 | | | |
| --- | --- | --- |
| | Sensitivity | |
| | Judgment | |
| | Focus | |
| | Action | |
by John Langstaff
Frog Went A-Courtin' is about a series of events . The genre of the story is Comedy, Mythology/folktale, and Romance, the setting is Fantasy, and the heritage is European.
This story is based on a Scottish song. Frog courts a mouse, and they make their wedding plans. A variety of forest creatures arrive as guests, including the old tom cat who puts an end to the festivities.
The theme of the story is Decide what you want to be in life, and put in the work to fulfill your dreams.
| | |
| --- | --- |
| | Violence |
| | Cruelty |
| | Rudeness |
| | Religion/Spirituality |
| | Stereotypes |
Key Virtues
Love
Friendship
Courtesy
Persistence
Cooperation
Duty
Includes others
Loyalty
Planfulness
Resourceful
Key Vices
Contempt
Cruelty
Greed
Reckless
Unkind
Wrath/Vicious Anger