Joseph Had a Little Overcoat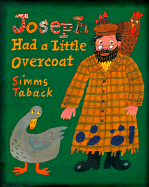 | | | |
| --- | --- | --- |
| | Sensitivity | |
| | Judgment | |
| | Focus | |
| | Action | |
by Simms Taback
Joseph Had a Little Overcoat is about self-enhancement and prudence . The genre of the story is Comedy and Cartoon/comic, the setting is Contemporary and Realistic, and the heritage is Jewish.
As Joseph's clothes wear out, he innovatively creates new articles from the leftovers. Based on a Yiddish children's song
The theme of the story is Make the best of your resources until they are all used up.
Violence
Cruelty
Rudeness
Religion/Spirituality
Stereotypes
There is stereotyped social class in the story.
Key Virtues
Resourceful
Frugality/Thriftiness
Creativity
Hard work
Optimism
Prudence