Animals of the Bible, A Picture Book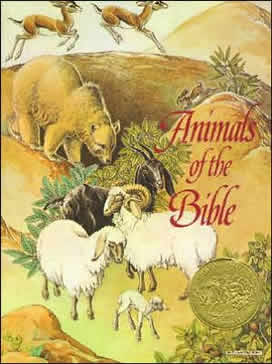 | | | |
| --- | --- | --- |
| | Sensitivity | |
| | Judgment | |
| | Focus | |
| | Action | |
by Helen Dean Fish
Animals of the Bible, A Picture Book is about morality and descriptive of causes . The genre of the story is Mythology/folktale, the setting is Historical.
A book of biblical passages accompanied by a pictorial interpretation of the animals in the bible
Moral reasoning in the story focuses on self concern and concern for relationships.
The theme of the story is Be a good steward of nature.
Violence
Cruelty
Rudeness
Religion/Spirituality
The religion/spirituality in the story is judeo-christian and respect for the religion is shown .
Stereotypes
There is stereotyped male sex role and stereotyped female sex role in the story.
Key Virtues
Kindness
Obedience
Respect
Duty
Faith
Loyalty
Altruism/Unselfish care for others
Courage
Ecological Citizenship/Preserving nature
Forgiveness
Key Vices
Disobedience
Cruelty
Destructive to environment/Ecocidal
Dishonesty
Disloyalty
Greed
Intemperance