Cinderella, or the Little Glass Slipper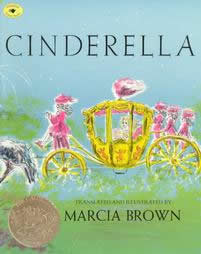 | | | |
| --- | --- | --- |
| | Sensitivity | |
| | Judgment | |
| | Focus | |
| | Action | |
by Marcia Brown (trans.)
Cinderella, or the Little Glass Slipper is about morality and imagination . The genre of the story is Mythology/folktale, the setting is Historical and Fantasy, and the heritage is European.
Though she is mistreated by her step family Cinderella wins the heart of a handsome prince at a ball with the help of her fairy godmother.
Moral reasoning in the story focuses on self concern and concern for relationships.
The theme of the story is When things seem difficult, keep doing the right thing.
Violence
Cruelty
Rudeness
Religion/Spirituality
Stereotypes
There is stereotyped male sex role, stereotyped female sex role, and stereotyped age differences in the story.
Key Virtues
Forgiveness
Kindness
Altruism/Unselfish care for others
Compassion
Cooperation
Hard work
Hope
Humility
Love
Thoughtfulness
Key Vices
Selfish
Arrogance
Unkind
Vanity
Cruelty
Jealosy
Thoughtless
Contempt
Envy
Excludes others