If You Give a Mouse a Cookie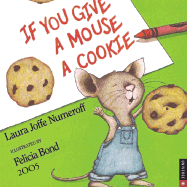 | | | |
| --- | --- | --- |
| | Sensitivity | |
| | Judgment | |
| | Focus | |
| | Action | |
by Laura Numeroff
If You Give a Mouse a Cookie is about morality |. The genre of the story is Comedy, the setting is Fantasy.
A boy gives a mouse a cookie. The mouse then asks for milk and a series of requests begins where the boy generously grants the mouse's wishes. After a long day of requests and the ensuing activities, the boy and the mouse sit down together and enjoy another cookie.
Moral reasoning in the story focuses on concern for relationships.
The theme of the story is Every action has a consequence.
| | |
| --- | --- |
| | Violence |
| | Cruelty |
| | Rudeness |
| | Religion/Spirituality |
| | Stereotypes |
Key Virtues
Generosity
Kindness
Altruism/Unselfish care for others
Friendship
Helpfulness
Courtesy
Gratitude
Cooperation
Hard work
Planfulness