The Little Engine That Could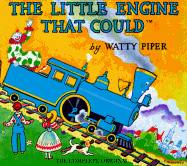 | | | |
| --- | --- | --- |
| | Sensitivity | |
| | Judgment | |
| | Focus | |
| | Action | |
by Watty Piper
The Little Engine That Could is about prudence, morality, and imagination. The genre of the story is , the setting is Ahistorical.
A little steam engine manages to tow a train in need over the mountain.
Moral reasoning in the story focuses on concern for relationships.
The theme of the story is Difficult problems can be solved when everyone works together.
Violence
Cruelty
Rudeness
Religion/Spirituality
Stereotypes
There is stereotyped male sex role and stereotyped female sex role in the story.
Key Virtues
Cooperation
Hard work
Persistence
Altruism/Unselfish care for others
Courage
Helpfulness
Self confidence
Compassion
Generosity
Hope
Key Vices
Arrogance
Unkind
Contempt
Obstinate/Uncooperative
Selfish
Vanity
Cruelty
Excludes others